Facility Cleaning Trends in 2022
Find out what cleaning practices are trending in 2022 and stay on top of the most relevant cleaning methods for your facility today.
Moving into post-pandemic life has seen some rapid changes to the cleaning industry that reflects a shift in what is important to customers, operation managers, contract cleaners and cleaning equipment operators. The most important change we have already discussed in our prior article is the attitude towards cleaning, becoming a more prominent part of facility safety processes. Based on this market shift, we discuss below some other areas where facility cleaning has taken a turn to help achieve greater safety along with other areas of efficiency, performance and image.


Robotics - smart cleaning is definitely now a thing
Aside from those Star-Wars looking vacuums and mops you see in many households, automated cleaning machines such as ride-on scrubbers or sweepers are now coming into Australian businesses There is an obvious benefit with robotics; they take out human labour and save on operation costs but they also help scale your coverage area and increase cleaning efficiency. Three examples of robotic cleaning applications in businesses are listed below: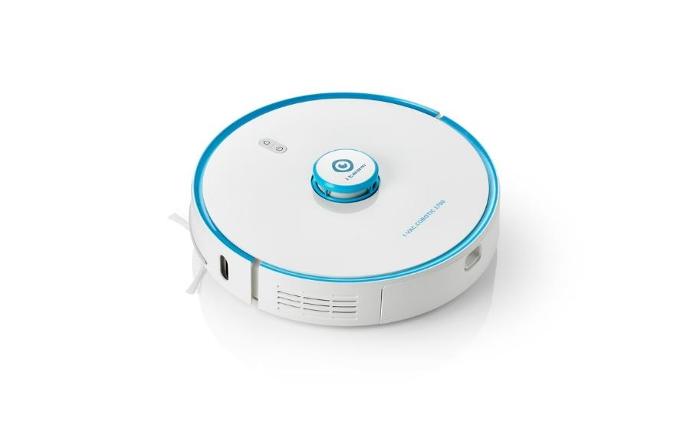 Co-Botic 1700 Vacuum
Dropping in May 2022, i-team have developed their own spin on domestic robotic cleaners by making a version suitable for commercial applications and uses. Battery operated with 14.4V power, i-team had the vision of using these clever cleaners in hotels or restaurants where you can literally programme them to clean multiple areas with no supervision. Imagine seeing 8 or 9 of these dispersing into a designated hotel room each? Or perhaps getting into a lift, moving up a floor and repeating the process? It would feel like robot domination. But in a good way. 

Controlled by a cloud-based app or remote control, the co-botic is meant to take the strain out of routine cleaning requirements. And you can bet they are reliable to do exactly what you tell them to do.
VIEW CO-BOTIC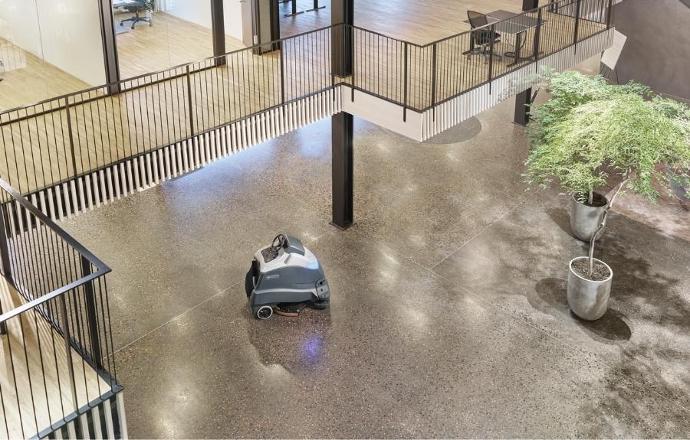 Liberty SC50 Walk-Behind Auto Scrubber
This dude first hit Australian soil in early 2020, and now is available for use in medium to large commercial premises. All by itself!

Liberty is a single disc 24V scrubber with a scrub path of 510mm. You can see it having a go at this Sydney shopping centre. Just like all robotic cleaners, mapping out the cleaning area to program it to the route you desire is key for effective results.

View VIEW SC50
T7AMR Ride-On Robotic Scrubber
If anyone's self-esteem were to be shot down by a scrubber, it would be T7AMR's predecessors, the T7 Conventional and ec-H20 ride-on machines (which, may I add are still current cleaning models). But who can compete with a scrubber that has a mind of its own? And works independently?

Combining the previous success of the T7 scrubber, with the BrainOS technology for autonomous cleaning, Tennant's T7AMR automated cleaning machine is pathing the future of medium to large-area cleaning.


This robotic cleaner has not yet reached Capital Equipment Hire's doors, but when it does, you will be the first to know.

View Tennant range


High-Contact Areas - cleaning sprays are taking over commercial premises.
An industry plagued by continuous lockdown and restriction impacts, commercial venues such as restaurants, cinemas, arcades and clubs have needed to deal with various 'deep cleaning' episodes to stay open. On top of this, as Australia continues to move into a 'living with COVID' attitude, these commercial venues are the perfect place for super-spreader events causing staff disruptions. To fight this constant threat, facility cleaning trends now include misting sprays to disinfect high-contact areas. The intention of this is to maintain safe environments where bacteria and viruses find it hard to develop and spread. 
It also allows commercial venues, and any other venue an easy way to complete quick cleans when required, such as during peak periods with high foot traffic. Not all misting machines are made equal, which is why we have listed two key models we sell below to explain the differences:


Fimap eSpray, Electrostatic
The model was brought in right at the start of the pandemic and has helped businesses keep their facilities as safe as possible amid constant virus threats. Designed as a handheld spray 'gun' for easy operator use, the top standout of this product is the electrostatic hygienisation technology that offers 360 degree coverage of an area. This basically means it will cover your targeted area evenly and will prevent mist lost to the air by the attraction to the surface. This means it can clean ANYTHING. Doorknobs, desks, gyms, benchtops….the list goes on.

i-cover Spray
i-cover achieves a similar result to the eSpray but goes about it in a different way. Firstly, the i-cover can be configured into multiple setups based on the operator's preference including shoulder bag, handheld, back and a trolley. Secondly the i-cover comes with different nozzle accessories to change the level of mist based on the application. For example, the 0.3mm green nozzle projects a fine mist suitable for indoor use. i-cover gives the operator a little more customisation over their cleaning application whereas the eSpray is more of an 'all-rounder' solution. Both options are great, it's up to the user.

Air Purifiers - now an essential piece of equipment
Viruses are air-borne and air-transmitted, meaning air purifiers have seen a major boom in both commercial and domestic areas to maintain clean and safe air. What is a good air purifier for businesses? Glad you asked. We have the perfect solution which is top of class, the i-air Purifier. Unlike other available models, the i-air contains a H14 HEPA filter, one of the highest and strongest filters available. A Microbial Reduction Rate Test proves the i-air reduces ≥ 99.9% of viruses, moulds, & bacteria, a fantastic result!


The good thing about the i-air, and all of the i-team's products is the attractive look of the purifier, meaning you can install it in any office, lobby, waiting room, or communal area without sacrificing company image. In fact, it would enhance it. 

If you want to see the i-air in action, we have a great video featured on our product page that shows how effectively it can clean in 40minutes.




Conclusion
From automated cleaning machines to air purifiers, the most recent facility cleaning trends reflect an evolving industry that is equally proactive and reactive to the external environment. We want to make sure we keep delivering new and updated information to the cleaning community of Australia, so if there is anything you wish to know more about, let us know and we can help!